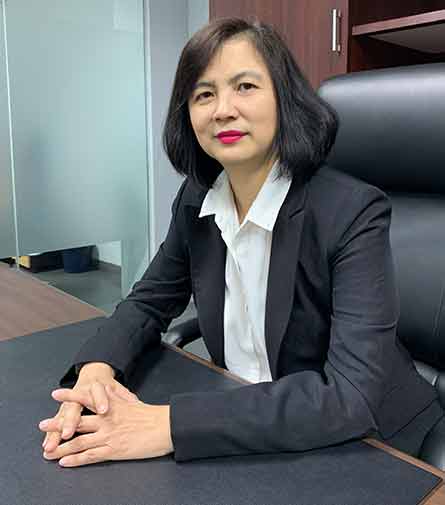 Caterin Widjaja, President and Director
The mineral processing industry has been fighting several battles at a time. The industry participants are required to ensure product quality and occupational health and safety of workers while keeping the operational cost of products and services in check. Stepping up to these challenges is PT Growth Asia, an Indonesia-based company that has expertise in mill liners and grinding media. PT Growth Asia is on a mission to help mineral processing companies overcome the predicaments by offering the highest quality products, services, and solutions for the grinding and processing of minerals. Today, the company has emerged as a one-stop-shop and solution center for its global clients. Established in 1989 with an aim to manufacture wear parts for steel mill operations, PT Growth Asia began supplying wear parts to the mining industry in 1996. Since then, it has remained committed to its vision of providing quality products manufactured using high-quality material, skilled labor, and industry best practices. "We are zealous about delivering enhanced value every day to all the stakeholders—including shareholders, employees, local communities, and countries where we operate in," says Caterin Widjaja, President and Director of PT Growth Asia.
PT Growth Asia has a history of meeting and exceeding client expectations, thanks to its consultative strategy for manufacturing and support. Its team listens to the clients carefully, gathering all necessary information and understanding their needs to manufacture products such as wear-resistant steel/rubber mill liners, fasteners, grinding media, and Crusher Consumables, among others. Communication and collaboration with clients is an essential element of its business strategy. With comprehensive insights into the clients' needs and challenges, the specialized team at PT Growth Asia moves into the design phase. The team brings to bear its years of technical experience and expertise to build designs that are customized to the clients' specific project needs. Once the design gets client approval, the team moves into product manufacturing. The products developed are a combination of steel and rubber material, so clients achieve greater value. Further, all of the products undergo rapid and intense testing to ensure long-lasting quality. PT Growth Asia makes it a point to maintain an optimum plant floor to reduce the unnecessary downtime and deliver the products within the client budget.

To improve the production output, PT Growth Asia has been continuously investing in simulation applications for grinding operation. The company utilizes up-to-date technologies, including innovative laser scanning, to improve production accuracy. Another key objective of PT Growth Asia is to safeguard its workforce from potentially hazardous work by adopting advanced technology solutions. This has made the company excel as a one-stop-shop in the industry.

Owing to its array of top-performing products and services, PT Growth Asia has been winning Indonesia's prestigious Primaniyarta Award many times in the last two decades. Some of these include the Best Performing Exporter in 2006 and 2007, Outstanding Performance Exporter in 2010, Extra Ordinary Performance in 2011, and Outstanding Winner for 5 Times Achievement of Primaniyarta Award in 2012, among others. The most recent award was in 2018 for being the best New Market Pioneer Exporter.

PT Growth Asia understands that the mining market is going to expand in the future, and the need for high-quality products will increase. Accordingly, the company intends to increase its production capacity to meet this demand, moving forward.